Irish Person of The Year Nominations Approved By SADOE Board
The SADOE Board approved two nominations for Irish Persons of the Year, which will be voted on by members at its Feb. 7 general meeting and will be honored at our March 10 St. Patrick's Day Dinner & Show. Congratulations goes to SADOE Dublin Director John Callan and SADOE Member Courtney Meredith. Their nominations and biographies are presented below:
John Callan
John Callan is the Dublin Director for the Sons & Daughters of Erin and has been a tireless worker for our organization taking on projects such as cataloging the large collection of Irish books donated by the former Isles Tea Shoppe and the family of the late SADOE President Archie Redmond. His efforts resulted in a significant profit at last year's Reno Celtic Celebration. He joined our organization to learn to learn more about his Irish heritage and his nominator said: "his natural gift for Malarkey and Shenanigans makes him a very well received member and representative of our club." John has greatly enjoyed representing our club at various events, walking in the parades, attending picnics, and always contributing at our gatherings.
After 8 years as an active duty Marine and 20 years US Army active and reserve duty, John continues to serve his fellow veterans as an active member Scottish American Military Society that participates in events for SADOE and other Celtic organizations in our community, as well as volunteering for annual events for the Veterans of Foreign Wars, the Nevada Air National Guard, the Wounded Warrior Program and the Honor Flight Program.
Through his military training, John gained the belief that the best way to make the world a better place is to give back to your community and learned how crucial clean water and environment are to a basic standard of living. This eventually led him to become an environmental police officer and then to work for the Bureau of Land Management. Through Abandoned Mines Program he works with companies to clean up the often unintended consequences of mining. He holds a Masters in Environmental Management and a Bachelors in Geography. However, John would prefer you call him "a tree hugger and a BS artist."
John was born in Waltham, Massachusetts and grew up on the outskirts of Boston. Several members of his family have also dedicated their lives to service. His father and all four of his brothers also served in the military, while other siblings followed careers in law enforcement, firefighting, and nursing. The youngest of nine children, he often looked for peace and quiet in nature through hunting and fishing. His love of the television show Bonanza inspired his imagination to live off the land and to eventually move out west. However, he was also disappointed when Tahoe and Virginia City were not, in fact, 15 minutes apart as depicted on the iconic Western show.
John's hobbies include GeoCaching, fly fishing, learning more about history and watching hockey games cheering for the Boston Bruins.
John recently learned through a genealogy test that he is 80 percent, Irish. His great-grandparents were from County Mayo and Monaghan in Ireland. To John, being Irish means celebrating his heritage with his friends and family.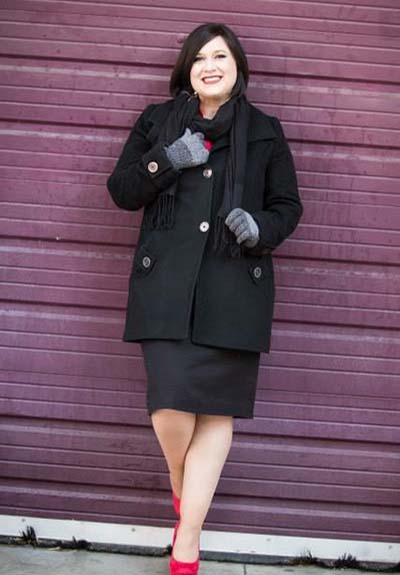 Courtney Meredith
Courtney Meredith is a member of the Sons & Daughters of Erin who contributed a huge gift to our organization this past year by developing a new web site and updating our social media through her boutique family-owned design firm, Design on Edge, co-founded by herself and her husband Chris.
Over the past 19 years of her career she has won over 57 awards for graphic design and business on both a local and regional level, including the local chapter of the American Marketing Awards, and the sponsor award for best in newsprint by the Reno News & Review and the American Advertising Association. She was most recently awarded the 2017 Ad Person of the Year from the American Advertising Federation, and has been nominated as one of the 150 honorees for the Reno People Project, made up of people past and present that have made a positive impact to the city of Reno.
Five years ago, she co-wrote and published a pictorial manuscript on the history of the Reno Riverwalk District, that same year her company was nominated as the "Most innovative company and service in northern Nevada," by Reno News and Review. In 2014 her company was nominated as one of the top small family owned businesses in Nevada by Nevada Business Magazine, and honored as a nominee in the 2014 "Top 20 under 40" awards. Courtney was chosen as the 2015 recipient for the Creative Advocate of the year award through the National Center of Entrepreneurship and technology.
Courtney actively assists in the revitalization of the downtown corridor, with her company being the primary creative agency for the Reno Riverwalk District. She is a previous board member for the American Advertising Federation of Northern Nevada, a member of NCET and AIGA, as well as a founding member and Secretary for the Biggest Little City organization, recently adopted by the City of Reno.
Courtney and her husband also present annually to the senior level design program at Truckee Meadows Community College and was this year's keynote speaker for the student development conference.
She is a member of the American Business Woman's Association, Nevada Society of Scottish Clans and Reno Riverwalk District.
Her Irish heritage comes mainly from her mother's side with Gillihan's tracing back 7 generations to County Down, Antrim and Armagh as well as Donegal. Her Scottish patronage comes from her paternal grandmother's side and Clan Scot.
Courtney is a first generation Nevadan who participates in many club activities along with her sister, Brittney. In her free time, her hobbies include snowboarding, photography, traveling, enjoying whiskey with friends and spending time with her nieces and nephew.
To Courtney, being Irish symbolizes a great deal, an ability and love of music; closeness of family; a sense of justice; ambition; a fondness for a party; to be ferociously tenacious; a love of words and learning and a keenness for all things spiritual. It symbolizes a group of people who persevered with great pride and dedication to maintain traditions despite the trials and tribulations set forth over history, it symbolizes the spirit of her ancestors that believed in fighting against injustice, and standing by what they believed in. The music of Ireland is a beautiful reminder of her mother whose spirit lives on in her daughters and grandchildren. Most importantly it's a reminder that her Irish ancestors lived with so much less than we do today and yet they fought fearlessly for the freedoms that she gets to experience in her life as an American. Without their travels, stories and risks she would not be here today and for that she is forever grateful.
Both John and Courtney join a list of previous Irish Person of the Year winners who have made an exceptional contribution to the Sons & Daughters of Erin. This award has been bestowed on Denny Healy, Jr., Con Galvin, Geno Oliver, Joe Smeltzer, Dinny McGinley, Hugh Lantz, Patrick Martin, Ross Salmon, John Reeves Janine McGinley, Pat Lantz, Noreen Neely, John McCarthy, Charles Neely, Bettylou Reed, Sherri Simmons, Mike Steedman, Pat Jewitt, Archie Redmond, William Puchert, Greg Harrington, Lisa Arteaga, Mark Sullivan, Kathleen Eagan, Jeremy & Eve McNeil, Chris Moreland, Judi Shanahan and Brittney Hardimann