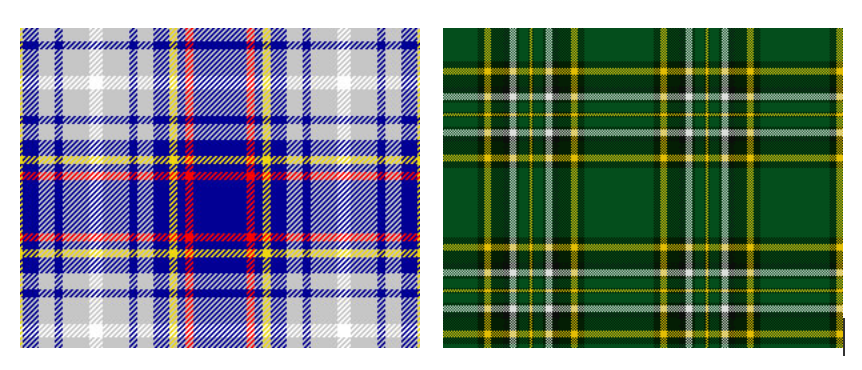 Tartan Day Ceilidh To Be Held at Idlewild Park
Our Scottish Cousins in the Scottish American Military Society have an event commemorating Scottish Independence this weekend at Idlewild Park's California Building. Tartan Day was April 6 and is a day of ethnic pride to the Scots as St. Patrick's Day is to the Irish. The two tartans below is the Nevada State Tartan (left) and the Irish National Tartan (right):
The SAMS Post 1864 2017 Tartan Day Ceilidh will be held TOMORROW (Saturday April 8th) from 4:30 – 9pm. The door ticket sales will begin  at 4pm, $10 / person, free to children under age of 18 (accompanied by parents only); the food service (bangers, burgers, pot-luck faire, etc.) will begin, (to include the Ceol's Pub Truck) at 4:30pm; the 'open-mike' is available to all starting at 4:20pm until 5pm; the opening ceremonies will begin at 5pm, followed by the Post Commanders comments on Tartan Day, and Al McNeil's presentation honoring the 225th anniversary of the signing of the Bill of Rights to the Constitution of the U.S. and the Scottish influence on their creation. The Bonnie-knee contest will be held once again this year and our  raffles of 10  wonderful prizes.

The musical performers for the event includes the Sierra Highlanders, Doyle Stewart, and the bluegrass band, Sage Creek. The party will run until 9pm. Please come out and enjoy the party and this fundraiser event. The Ceilidh will be held the VFW California Building, 75 Cowan Drive, Reno NV (in Idlewild Park). 
Like The Burns Supper is to the NSSC and the St. Patrick's Day Dinner & Show is to SADOE, the Saturday evening Tartan Day Ceilidh  raises money for SAMS' operating budget, their veteran causes, UNR ROTC scholarships and Scottish heritage events.