Irish Person of The Year Nominations Approved By SADOE Board
The SADOE Board approved one nomination for Irish Persons of the Year, which were voted on by members at its February 1, 2022 general meeting. Congratulations goes to local broadcaster  Erin Breen.
Her biography is presented below: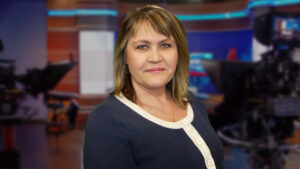 Erin Meehan Breen was nominated by the SADOE board in January and selected by its membership last night unanimously as our Irish Person of the Year for her efforts to bring Irish Culture and History home through her Erin's Isle blog and accompanying podcasts.
As an Emmy award-winning journalist, columnist and writer for television, radio and print she has put 25 years of experience to work honing a true talent for storytelling as "a broad abroad living in Ireland," as she perused and was awarded her Master's Degree at the National University of Ireland in Galway a few years ago. Every episode focuses on a couple of potential things to add to your adventures and a look at universal issues of the Emerald Isle, have become part of the inflight entertainment on Aer Lingus flights to and from Ireland. She has turned her passion for storytelling into a non-profit organization to support future trips in order to bring more content for her storytelling project.
Breen is a familiar face to Northern Nevada Seniors through her "Reconvene with Erin Breen" segment on "Aging And Awesome" Show, airing weekly on KTVN Channel 2, covering an array of topics from different age perspectives and interests that impact the quality of life of those 55 and over. She also is a contributing writer for Irish Central.
After 18 years reporting and anchoring evening newscasts and five years writing documentaries for public television and contributing to National Public Radio she spent 10 years reporting and anchoring on the Emmy award-winning Channel 2 News in Reno, Nevada. She also taught broadcast writing at the University of Nevada Reno.
Breen was inducted into the Nevada Broadcasters Hall of Fame in August of 2011. She began her broadcasting career as a weathergirl in Eureka, California and over nearly three decades has worked in radio and television, public and commercial. She was honored in Las Vegas, Nevada.
Erin Breen was awarded an Emmy for the National Academy of Television Arts & Sciences/Northern California Region for Outstanding Achievement in Daytime News for smaller markets in 2008-2009. She received the award as an anchor/reporter and writer for KTVN, Channel 2 in Reno, Nevada.
Breen was born in New York and addition to her Master's Degree from NUI Galway, she as a BA in Journalism from the University of Washington, Seattle.
She has three children and resides in Reno when not in Ireland. Her Irish ancestors are from County Sligo.
To Breen, being Irish means celebrating her heritage, which she says "is my past, future and my passion."
Erin joins a list of previous Irish Person of the Year winners who have made an exceptional contribution to the Sons & Daughters of Erin.
This award has been bestowed on: 
2021 Donald Abbott & Doyle Stewart 2020 Marli (Missy) Reinheimer & Ralph McMullen; 2019 Jan Brady & David Bobzein; 2018  John Callan & Courtney Meredith ; 2017 Brittney Hardiman; 2016 Christopher Moreland & Judi Shanahan; 2015 Jeremy & Eve McNeil; 2014 Mark Sullivan & Kathleen Eagan; 2013 Lisa Arteaga; 2012 Greg Harris ; 2011 William Puchert; 2010 Archie Redmond; 2007 Patricia Jewett; 2006 Mike Steedman; 2005 Sherri Simmons; 2004 Bettylou Reed; 2003 Charles Neely; 2002 John McCarthy; 2001 Noreen Neely; 2000 Pat Lantz; 1999 Janine McGinley; 1998 John Reeves; 1997 Ross Salmon; 1996 Pat Martin; 1995 Hugh Lantz; 1994 Danny McGinley; 1993 Geno Oliver; 1992 Con Galvin; 1991 Denny Healy Jr.; Joe Smeltzer, Dinny McGinley, Charles Neely,and many more