Irish Person of The Year Nominations Approved By SADOE Board
The SADOE Board approved twonomination for Irish Persons of the Year, which were voted on by members at its February 7, 2023 general meeting. Congratulations goes to SADOE Board Members  Paul Beaton & Michael Del Ostia.
Their bios are presented below: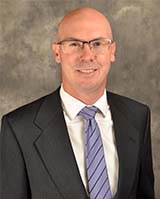 Paul Beaton is SADOE's Treasurer and took on that role after a decade of service to our organization and our sister organization in Southern Nevada. He was nominated because of his diligent work as our resident bookkeeper, which has made budgeting and fiscal planning easier to understand for his fellow board members as well as community service. He was also instrumental in encouraging our sister organization to contribute to our initiative to restore nearly 30 Irish family graves at Hillside Cemetery.
Currently, Paul is a Supervisor in the Department of Finance for the City of Henderson. After he spent the first 13 years of his career working as an Agent and Senior Agent for the Nevada Gaming Control Board, Paul relocated to Southern Nevada 2014.
When he is not watching a Boston Red Sox game, volunteering is very important to Paul. In 2015, he received a Caesars Hero Volunteer Award for his work in the community with therapy dogs. He started volunteering with his dog Spirit as a member of Paws 4 Love in Reno 13 years ago. Paul and his current therapy dog Molly have made visits to the USO, Nevada Veterans'Home, Henderson Libraries, Vineyard Memory Care, Clark County Schools, US Attorney's Office, and the FBI. They also comforted survivors of the October 1, 2017 shooting in Las Vegas. He served as a former Treasurer for the Southern Nevada Sons and Daughters of Erin from 2016-2021.
Paul, a Carson City native, is a graduate of the University of Nevada, Reno. where he was the recipient of two academic scholarships, and was on the Dean's List multiple times. He is a lifetime member of the Golden Key and Beta Gamma Sigma Honor Societies.
Paul's Irish heritage comes from Counties Mayo, Cork and Dublin. His ancestors settled in the Boston area after escaping the Great Famine. To Paul, being Irish means never forgetting the sacrifices our ancestors made. It also means giving back, even if it is something small, such as sharing your dog with a soldier heading off to a long deployment, listening to stories from a veteran who served long ago, or giving a stranger a small reprieve from grief or tragedy.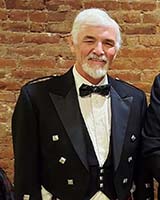 Michael DelOstia has served in various positions depending on the needs of the board including as our former Sgt at Arms and Treasurer. Currently one of our board directors, he was nominated for his work building our organization's parade float which helped us to receive the Best Community Group Award in Sparks Hometowne Christmas Parade in December.
Michael is a semi-retired licensed civil engineer, who has worked on several projects within Washoe County. He is a Past President of the American Society of Safety Engineers and a member of the American Society of Safety Engineers. He also is a former Safety Instructor at Truckee Meadows Community College. His hobbies include whiskey tasting and wood working.
Michael is very active in our local Celtic Community, which was one of the factors in his receiving last year's Hugh Lantz Award. He is the former President of the Northern Nevada Celtic Celebration, a member of theNevada Society of Scottish Clans, and is playing a leadership role in organizing SADOE's Celtic Ceilidh in May. He is an officer in Clan Donald USA and will be organizing its Annual General Meeting here in Reno in 2025.
Michael has volunteered for several public service projects over the years and is an Army veteran. Heholds a B.S. in Civil Engineering from the University of North Carolina, Charlotte.Michael's Irish roots can be traced to County Claire. He believes that being Irish means discovering moreof his family heritage and meeting new extended family members and cousins.
Paul and Michael join a list of previous Irish Persons of the Year winners who have made an exceptional contribution to the Sons & Daughters of Erin.
This award has been bestowed on: 
2022 Erin Breen; 2021 Donald Abbott & Doyle Stewart; 2020 Marli (Missy) Reinheimer & Ralph McMullen; 2019 Jan Brady & David Bobzein; 2018  John Callan & Courtney Meredith ; 2017 Brittney Hardiman; 2016 Christopher Moreland & Judi Shanahan; 2015 Jeremy & Eve McNeil; 2014 Mark Sullivan & Kathleen Eagan; 2013 Lisa Arteaga; 2012 Greg Harris ; 2011 William Puchert; 2010 Archie Redmond; 2007 Patricia Jewett; 2006 Mike Steedman; 2005 Sherri Simmons; 2004 Bettylou Reed; 2003 Charles Neely; 2002 John McCarthy; 2001 Noreen Neely; 2000 Pat Lantz; 1999 Janine McGinley; 1998 John Reeves; 1997 Ross Salmon; 1996 Pat Martin; 1995 Hugh Lantz; 1994 Danny McGinley; 1993 Geno Oliver; 1992 Con Galvin; 1991 Denny Healy Jr.; Joe Smeltzer, Dinny McGinley, Charles Neely,and many more