Irish Person(s) of The Year Nominations Approved By SADOE Board
The SADOE Board approved two nominations for Irish Persons of the Year, which were voted on by members at its February general meeting. Congratulations goes to Sparks City Councilman Donald Abbott and SADOE Member Doyle Stewart.
Their nominations and biographies are presented below: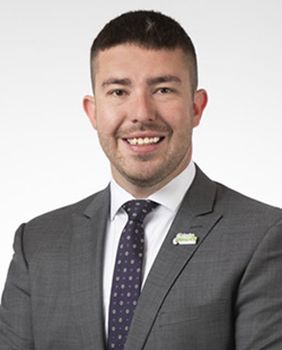 Donald Abbott
Donald Abbott has been nominated as Irish Person of the Year for his outstanding service to our community and addition to a few contributions to our organization.Abbott is serves  as the Sparks City Councilman for Ward 1, where he was just re-elected to a second term and the first millennial and youngest person ever to serve on the that body.
Passionate about his community, Donald continuously volunteers time and talent to local schools, organizations and events, often with the use of his photography business, AbbottOgraphy.  He led his graduating class of 2008 to create a scholarship for Sparks High graduates.  Donald is on the Sparks Museum Board of Directors, where he was instrumental in saving "Last Chance Joe," the 35 ft tall gold miner statute that once stood at the Sparks Nugget.
In his capacity as a Sparks City Councilman he serves on several regional boards, which gave him the distinction of being the youngest Chairman of the Truckee Meadows Regional Planning Governing Board.
In his spare time, Donald enjoys Geocaching and trying new food.  In support of Sparks businesses, he has dined at all 196 restaurants in the City of Sparks with his best friend and mother, Donna and has attempted several local food challenges.
He was recently awarded as a one of the winners of the Reno Young Professional Network's Class of 2020 Twenty under 40 Award and selected by the bot the State of Nevada and Sparks Lodge's Elks Club's Elk of the Year.
He is a Sparks native, graduating from Sparks High School and TMCC, and served as a part-time Professor at TMCC teaching HVAC at 20 years old
In 2017, he led a delegation to Sparks' Sister City in Ireland, Longford, where he learned about the relationship both cities forged decades ago. Abbot was inspired to learn all about the Irish community of the childhood favorite Longford Park, located at 250 E. Greenbrae, to be named after and presented them with a flag which is proudly flown at their local municipal building.
Abbott is Irish through his maternal great grandmother and a recent ancestry test revealed he was 51 percent British/Irish.
"When it comes to heritage, I am a mixed bag, he says. "Among that bag one sticks out over the rest and that's my through and true Irish heritage."
He says being Irish means "looking after friends and family as well as the community as a whole and being that helping hand and putting the needs of other first."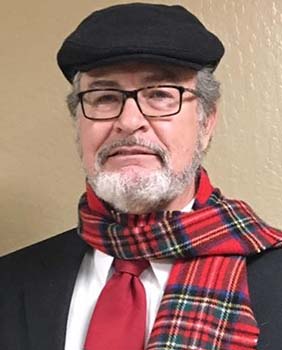 Doyle Stewart
Doyle Stewart has been nominated as Irish Person of the Year for outstanding service to the Sons & Daughters of Erin which has included providing his musical talents at our events and playing a significant role in our fundraising events.
Prior to the beginning of the pandemic, Stewart had been a fixture playing at local Irish pubs either solo or as a member of three local bands. He was also able to balance playing at our local Celtic Celebration in addition to providing sound services and equipment to the festival's dance stage, where Irish and Scottish dancers performed. He would often perform and mentor at local Irish Musical Sessions when the were held at former Ceol Irish Pub and The Isles Tea Shoppe
Stewart has been a member of our organization for the better part of a decade and a board member for just the past year. In this challenging year for SADOE because of the pandemic, he was able to procure vital resources necessary to carry out both of our successful fundraisers.
Doyle has been a Systems Testing Engineer at Hamilton for over two decades and a U.S. Army veteran. He also worked as a formulation's chemist, followed by earning a Masters Degree in Biochemistry at the University of Washington. He attended the prestigious Reed College in Portland but graduated from University of Oregon with degrees in Philosophy and General Science. He was born in Porterville, California and grew up in Forest Grove, Oregon.
Stewart and his wife, Chris, recently celebrated their thirtieth wedding anniversary and have two children, Emily, a local Music Therapist, and Jack, a rock-climbing free spirit.
Stewart enjoyed going to Ireland twice in recent years where he was able to reconnect with his former band mates in the 3-17 Irish Folk Band here in Reno, Kevin Lyons and his sons, Alan and Daniel, whom he credits as musical mentors and Irish soul mates.
Stewart draws his Irish lineage through his maternal side and has learned he descends from a plethora of Irish surnames (Shaws, Atkins and Murphys) for as far back as was known. They were Okies, former hard-working farmers and sharecroppers, who migrated to the West Coast as portrayed in John Steinbeck's Grapes of Wrath novel. The result of that historical displacement means that his search for Irish lineage consists of looking for failed farms in the Midwest.
To Stewart, being Irish translates to "friendship" and "music" (and maybe whiskey too), something he has nurtured playing at the above-mentioned Irish Music Sessions over the years.
Both Donald and Doyle join a list of previous Irish Person of the Year winners who have made an exceptional contribution to the Sons & Daughters of Erin.
This award has been bestowed on: 
2020 Marli (Missy) Reinheimer & Ralph McMullen; 2019 Jan Brady & David Bobzein; 2018  John Callan & Courtney Meredith ; 2017 Brittney Hardiman; 2016 Christopher Moreland & Judi Shanahan; 2015 Jeremy & Eve McNeil; 2014 Mark Sullivan & Kathleen Eagan; 2013 Lisa Arteaga; 2012 Greg Harris ; 2011 William Puchert; 2010 Archie Redmond; 2007 Patricia Jewett; 2006 Mike Steedman; 2005 Sherri Simmons; 2004 Bettylou Reed; 2003 Charles Neely; 2002 John McCarthy; 2001 Noreen Neely; 2000 Pat Lantz; 1999 Janine McGinley; 1998 John Reeves; 1997 Ross Salmon; 1996 Pat Martin; 1995 Hugh Lantz; 1994 Danny McGinley; 1993 Geno Oliver; 1992 Con Galvin; 1991 Denny Healy Jr.; Joe Smeltzer, Dinny McGinley, Charles Neely,and many more