SADOE will be participating in the Reno Pride Festival and Parade on Saturday, July 22 at Wingfield Park located in Downtown Reno. The Parade begins at 10 am and should last an hour  with the festival running from 11 am until 5 pm
Parade Staging Info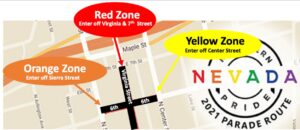 The Parade will begin promptly at 10 am and run south down N. Virginia from about 6th St. and disembark near the Truckee River. SADOE has been assigned entry 100 and will be staging in the RED Zone, which is located in the vicinity of 7th St. and the I-80 Freeway
SADOE will be using our float which has spaces for around 15-20 people. SADOE Director Michael Del Ostia (775-742-8204) will be coordinating the float and will begin staging around 9:00 am. The parade wraps up at around 11 am so our float will likely begin to move around 10:30 -10:45 am.
Tent Area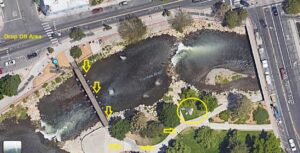 SADOE's tent will be located on the west side of Wingfield Park at the junction of the foot path west from Arlington, the bridge underpass that connects to the east side of the park and the path down to the river. There will be two tents plus plenty of shade. We are just a few yards from the Truckee River with plenty of shade. The festival will be gated off on West 1st St. to an entrance at Riverside/Ralston near the Lear Theater. We will have until 9am to get inside the closest drop off area to the bridge into the park where our tent is located. SADOE President Willie Puchert (775-378-0931) will be coordinating the tent set-up. We will begin dropping off and setting up around 7:30 am. We have a need for volunteers that can help us carry things from the drop off area over the bridge to our tent. Teardown will require us to carry out to the Riverside/Ralston gate.
Shared Snacks
Feel free to bring an ice chest and ICE! There are several of us bringing water to stay hydrated. Please Use This Facebook Page to communicate potluck items you are willing to bring as we can coordinate food and drinks.